California – Silicon Valley sees gold in corporate-driven school reforms
When Los Angeles Superior Court Judge Rolf Treu struck down the tenure rights of the state's public school teachers last month in Vergara v. California, his decision was hailed by Theodore J. Boutrous Jr., lead attorney for the plaintiffs, as "a terrific, wonderful day for California students and for the California education system."
The lawsuit, which had been brought on behalf of nine California schoolchildren, argued that the retention of "grossly ineffective" teachers through five due-process statutes violated the students' civil rights.
The suit and its accompanying public relations blitz had been bought and paid for by Silicon Valley entrepreneur David Welch under the umbrella of Students Matter, Welch's personal Menlo Park education reform nonprofit. Welch made his fortune designing large-capacity fiber optic transmission systems for the global service-provider market.
"I have not devoted my career to education policy," Welch admitted when launching the Vergara campaign last summer, "but I do believe I'm an expert on what you need in an environment to get the most out of people."
Read full article on the Capital and Main website.
New York – Commentary by NYSUT President Karen Magee: Tenure's protections necessary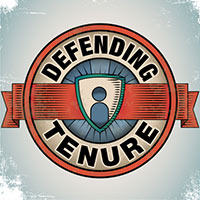 Here's the truth about tenure: It is an absolutely necessary safeguard that allows all the good teachers in New York to speak freely as professionals on behalf of their students.
Unfortunately, misinformation about tenure persists, spread by the wealthy elite and anti-union forces who deliberately distort its meaning as part of their all-out war against workers' rights. More misrepresentations about tenure — from pseudo-experts like former CNN anchor Campbell Brown — will soon be coming to New York in the form of copycat lawsuits similar to the Vergara case now before the California courts.
Like the case against tenure in California, these will also be without merit.
History shows tenure's basic protections are necessary. In public education, teachers, administrators and other school staff must be free to speak out on important issues — like the effects of poverty and over-testing on student learning — without fear of reprisal. In fact, many times as a special education teacher in Harrison, I spoke up as a professional for what was best for my students. I advocated for the additional services my students needed because I could not be arbitrarily dismissed for doing so.
Visit NYSUT.org for the complete story.
Massachusetts – MTA welcomes immigrant children to Massachusetts
The MTA is calling for the Commonwealth to welcome and shelter undocumented immigrant children as their cases are processed by federal authorities.
"Educators care deeply about human rights," said MTA President Barbara Madeloni. "Taking care of children who are in our country – no matter how they got here – is an important test of our humanity."
Madeloni praised Governor Deval Patrick, who announced last week that he has offered the Camp Edwards military base on Cape Cod and Westover Air Reserve Base in Chicopee as possible sites for housing unaccompanied minors who have crossed the border into the U.S. seeking to escape gang violence and extreme poverty.
"It is often said that a society is judged by how well it treats the weakest among us," said Madeloni. "I am hopeful that Massachusetts will be judged well in this crisis."
Read full article at MassTeacher.org and watch Gov. Patrick's speech on sheltering immigrant children here.
Wisconsin – November 4: A chance to get Wisconsin 'back on course'
"The November election is an opportunity to stabilize the ship and get it back on course." That's the message in this article, originally published in the Wisconsin Professional Employees Council newsletter:
Four months from now will be the next mid-term elections. Mid-term elections have a significant impact in Wisconsin. In the mid-terms, Wisconsinites will vote on every Assembly seat, half of the State Senate seats, and the Governor.
Four years earlier, 2010, over half of the eligible voters in Wisconsin stayed home, and overnight Wisconsin was turned in a very different direction. A traditionally purple state turned decidedly red. With that lopsided shift in power, came a decidedly partisan agenda that, for all intents and purposes, ripped this state in two.
Fifty years of progress, wiped out in under four. Unions busted. Public workers vilified. Funding cut for public education to funnel off to private, for-profit schools. Tax breaks handed out to business while cuts were made to subsidies for the working poor and unemployed. Out-of-state mining companies allowed to plunder our resources and not be held accountable for the damages. Local government authority diminished.
View original article at MiddleWisconsin.org and get more state education and election news at WEAC.org.